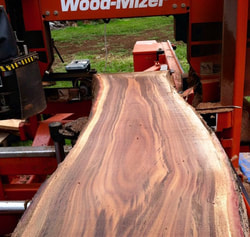 Hana Grown Hardwoods is a portable saw mill service based out of Hana, Hawaii. We aim to make the most out of our natural resources, promoting sustainability.

If you have logs that you would like turned into usable lumber or beams, we can help.

We will mill to any specifications to meet the need of our clients.

HGH inventory consists of locally salvaged trees that have been saved from the chipper or the local landfill.

---

​

​The majority of fallen trees on the east side of Maui are deposited in the quickly diminishing landfill. Our goal is to relieve some of the stress on the landfills while providing sustainable building materials and useful products for the community.